The Random Acts of Kindness Market
Thursday, 17th February 2022
International Random Acts of Kindness Day takes place on 17th February. Pedddle is hosting The Random Acts of Kindness Virtual Market which year on year has been a very successful event. It is all about demonstrating kindness to one another; shop from a range of unique products made by UK-based, small and independent businesses, find the perfect gift and have it gift wrapped and personalised for loved ones, friends, colleagues or even a neighbour!
This is a gift event meaning that each stallholder has one item on offer. As you may be gifting what you buy, your purchase will come gift wrapped and with a note.
Add to Calendar
Ceramics & Glass
Little Lime Design Co
Keepsake Card - a gift and card in one. Fused Glass Hanger to keep after the event.
Utterly Pottery
Hand Painted Personalised Ceramic Rainbow Coaster. Includes gift wrapping and handwritten notecard.
Louise Crookenden-Johnson Ceramics
Hand painted Daisy flowerpot ornament, includes gift wrap and postage
Clara Castner
Star shaped porcelain tealight holder
Textiles & Print
Up North Textile Design
Vintage Hair Accessory Gift Set contains - scented wax melt, vintage fabric headband and scrunchie
Sakarma Handmade
A cheery little flower pop to brighten anyones day, with tag for your message.
Joanne Hawker
A fabric storage bag available in medium or large! Perfect for those with an interest in crafting!
Lellibelle
Handmade hanging padded heart decoration for Spring - snowdrop applique and machine embroidery
Gemma Rappensberger Embroidery
Floral Heart illustrated embroidery in a 5" wooden embroidery hoop
Fussy Geek Wares
Print taken from a lino print - You're the jam to my toast.
Poppy Darling
A lightweight, tactile needle felted playful pin- price includes gift box & postage.
Treats for the Tummy
Pemberley Bakes
6 luscious lemon & white chocolate blondies, swirled with TipTree lemon curd and Callebaut chocolate
Art & Stationery
Elly Rowbotham Printmaker
Original Linocut Card, written with your message, sent to your recipient (price includes postage)
Gabi & Gaby
Pretty Floral A4 Weekly Planner Pad For An Organised Week
Arty JRS
A collection of 5 greetings cards, each with a different shoe design
Joy To Organise
A beautiful discbound notebook and you can choose the type of paper to go inside! £12.00 to £15.50
MegaLilyDesign
An original linocut print of Bluebells, hand printed in custom dark blue ink on Japanese paper.
Raw Mixture
Choose from a range of unframed graphic prints, designed with vintage wood type by Mary Thorp
The Creative Space
Watercolour paints & ink, co-ordinating sari ribbon loop, gorgeous wall-hanging gift, 20 x 20cm
Hannah Kate Makes
Adopt a Baby Dragon! Hand drawn and available in blue, green or purple.
Kerry Day Arts
A black and white botanical lino print of two succulent plants in an limited edition of 50
Health & Wellbeing
Ruth Thorp Studio
Illustrated Poetry Book by Steve Thorp and Ruth Thorp. Gift wrapped with personal note on request.
Turquoise Gem Home
Bespoke Kindness Kits, created for you to share your love. £11.50 each, including postage.
Laurel Tree Pottery
Ceramic aromatherapy diffuser pendant, add a couple of drops of essential oil to the back of pendant
Cushie Doo Textiles
A Hand Printed Linen Eye Pillow filled with Flaxseeds and Yorkshire Lavender perfect for relaxation
The Candle Bothy
A selection of small gift sets. Choose from 5 options incl candles, diffusers and melts. From £14.50
Helpmeorganics
Help someone sleep better with our Sleep Organic Room Spray made with organic essential oils
Scruffy Dog Creations
Ecofriendly gift box containing washcloth, scrubber and make-up pads
Gorse + Elder
Loose Leaf Herbal Tea, Travel Tube, Aromatherapy Pulse Point Oil and Fragrant Hanging Love Heart
Spirit Moon Studios
A self-care box created to help you go inwards, and to nurture and nourish your mind and soul.
Time For Me Teas
Organic loose leaf herbal tea blends to give you a moment to breathe, be present and recharge.
Accessories & Jewellery
Sister Sister
I've created a collection of pins with special heart felt messages to choose from.
Creatively Wired
Simple and sweet, a pocket hug keyring will brighten someone's day over and over again!
Daffodowndilly
Persevere enamel brooch, gift wrapped and with a personalised nature themed gift note included
Roma's Hope Shop
Macrame Heart shaped Keychains make a unique gift. Gift Packing and Personalised Note included.
Irregular Thoughts
The 'Panic Pins' collection - gentle reminders in times of trouble. 10% off today
Peach Plot
Ann Smith Art
A gorgeous wool felt 'Tweetie' Heart Brooch with bird button and hand beading and Art greetings card
Squiggles & Ink
Zipped pouch - perfect as make-up bags, nappy bags, pencil cases
That Lovely Weekend
100% Lambswool Knitted Accessories.
Tula and the Whale
Handcrafted scandi flower brooch (15% off in my whole shop with code 'RAOK15' and free postage).
Copper Petals Jewellery Design
A beautiful lightweight black polymer clay pendant on leather cord with gold silkscreen printing
Bowerbird Jewellery
Celebrate Spring with these gorgeous teal Liberty fabric snowdrop earrings!
Anna Pearson Metalsmith
Handmade pewter pin individually stamped with the encouraging & colourful text 'More Than Enough'
The Argentum Design Company
Fabulous daily drop earrings a perfect surprise gift! surgical steel hoops with a pop of colour!
Firetree
Recycled sterling silver hoop earrings complete with a beautiful leaf imprint disc.
Mashona Designs
Colourful Wired Headband, handmade with sustainably sourced African print patchwork fabric
Shine On
Cute dainty earrings, handmade in Sterling Silver, with a gorgeous texture. Choice of Heart or Star
ClaireCeramics
Beautiful ceramic heart pendants attached to an adjustable black cotton cord.
Betty Barnard
Handmade Sterling Silver Hammered Star Pendant
Chris's fork emporium
Pretty teaspoon handle bracelet with a heart charm. Use Discount code RAOK for 20%off on Folksy.
Woodcraft by Owen
Sparkle by Faith
Hand cut heart or star, approximately 10mm in size, then sprinkled with silver dust for texture
Cicee Creative
The And You necklace is made of a mini version of the And You charm. Made out of recycled silver.
Oliver Foulds
Ticket/card holder handcrafted in full grain leather - perfect for train tickets or business cards
Emma Philippa Maeve
Luxurious small velvet bag, perfect for any night out and to store all your essentials, handmade.
Miss Knit Nat
Knitted snood/cowl in a geometric Leopard pattern, handmade in Britain from high quality lambswool.
Home & Family
Shannon Sait Designs
These are delightfully illustrated bookmarks. Three different themes to choose from.
Jennie Sergeant Designs
Mix and match keyrings and stickers featuring a cast of cute characters! All wrapped up for you!
Little Shapes Studio
Hooray! Detachable mini garland mounted on a greeting card. A fun hanging decoration or cake topper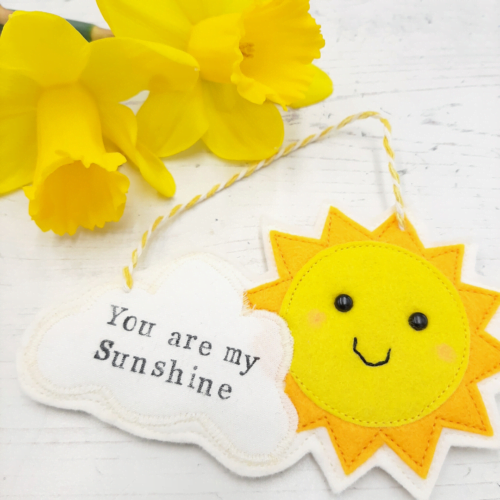 A Life Sew Simple
Cheery Sunshine gift, made from Cotton and Wool felt. Available in a selection of finishes
The Banner Boutique
Beautiful rainbow fairy decoration. Also available as a sew your own kit.
Little Smidge of Happiness
A sweet crochet bee decoration, presented on a card with a personalised positive affirmation
Rathbone Sass
Be Kind Cross Stitch Kit with Embroidery Hoop (other designs available)
Cactus Parlour
Succulent planting kits with positive messages of love and kindness
Shirley Rainbow
Lavender bags in cute cheerful designs made from wool felt, a fun gift or treat for yourself
Little Candybell
This positivity BE KIND Wall Banner will add the perfect touch to your home.
Art Star
Shuko Marbled Paper Star Kit - make a stunning 'Suminagashi' paper star with this simple craft kit.
Small Kindness
A beautiful gift set containing two wonderfully citrusy handcrafted luxury soaps
The Wight Pencil - Nicky Baker
All designs of bone china mug purchased incl complimentary notebook & handwritten note FREE DELIVERY
Clair T Designs
Hand Knitted Heart and postcard for personal message
Melted Flames
Be Kind and gift a Torso Candle with a cute handwritten note for Kindness Day or gift yourself!
Little Wisteria
Personalise your rainbow with a name or little message
Rosie Wesley
Handmade one-of-a-kind bronze twig keyring cast from a real twig collected in The New Forest.
The Copper Fruit
Brightly coloured cotton table runner in African mud cloth design. Made by our artisans in Ghana.
Ampersand Crafts
Give your loved one the gift of creativity with our Valentine's Day Rag Wreath Kit
Hope & Hart
Soothe your soul and create something beautiful with this monochromatic floral kit. FREE POSTAGE
No schedule available for this event
Meet Us
The Random Acts of Kindness Market
Louise Crookenden-Johnson Ceramics